Broken String Biosciences wins Cofinitive #21towatch 2023 award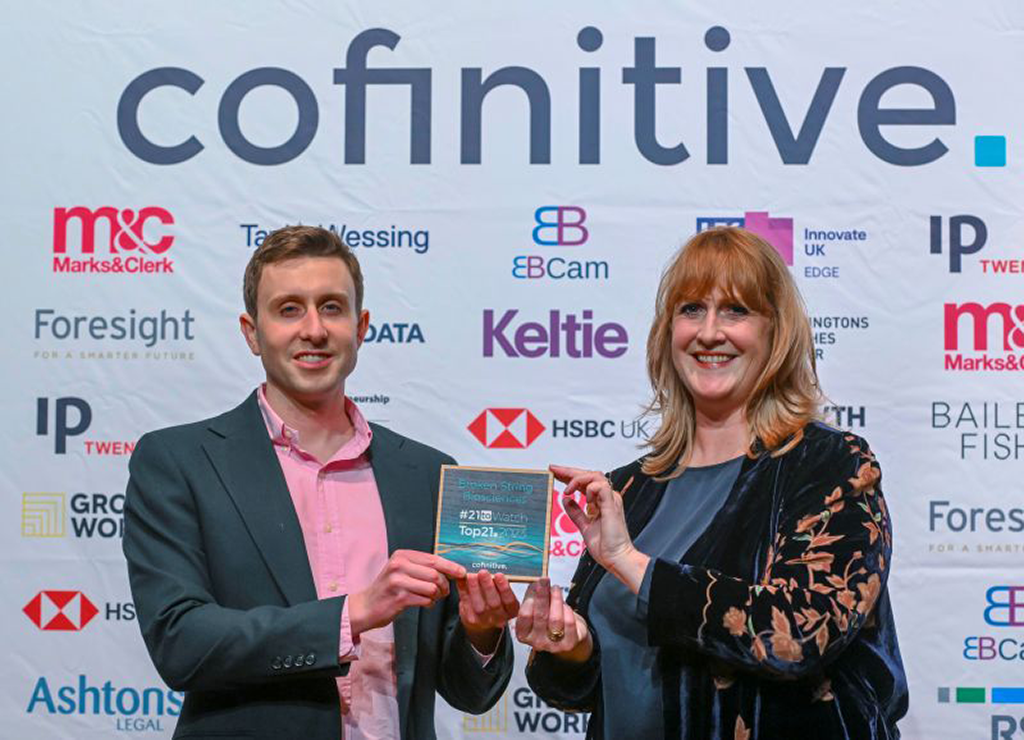 BIC resident company, Broken String Biosciences Ltd, has been selected as a winner in the #21toWatch annual celebration of the People, Companies and 'Things' at the cutting-edge of innovation in Cambridge and the East of England.
Felix Dobbs, CEO Broken String Biosciences said, "Many thanks to Faye Holland and cofinitive, as well as this year's judges, for recognising Broken String Biosciences and our mission of delivering on the promise of gene editing therapies by bringing them safely to all who need it".
Founded in 2020 as a spinout from Cardiff University, Broken String Biosciences entered the six-month Illumina Accelerator programme at Granta Park in March 2021 and joined the campus in 2021. Using their platform technology INDUCE-seq™ for precisely measuring gene editing off-targets in the genome, Broken String Bio's mission is to enable a data-driven approach for the safe development & characterization of gene editing systems for therapeutic use, safely ushering in the next generation of gene editing therapies. 
The company completed a Series Seed financing of c.£3m in September 2021 with investors from the UK, Europe and the US. The team has doubled since arriving in September 2021 and is planning further expansion at an established wet-lab facility just up the road at the Science Village, Chesterford Research Park. 
The Cofinitive #21toWatch awards recognise People, companies and the 'things' they create, across Cambridge and the East of England, and are setting the standards in innovation and entrepreneurship across the globe. #21toWatch is a dedicated campaign to showcase and highlight the maybe lesser known, recognising those exciting new entries across all market sectors, and celebrating the very best work going on today in the region. With such diversity and ingenuity amongst the #21toWatch cohort, the attributes each submission is assessed on are Innovation, Challenge, Influence, Viability and Memorability.
"Congratulations to the Broken String Biosciences team – we are thrilled to have such an exciting young company within the BIC and on Campus. It's been a delight to support them in growing as a team and company over the last 18 months. They are an inspiration in terms of both their science and as a start-up." Joanna Mills Head of Entrepreneurship. 
Congratulations to the Broken String Biosciences team for this achievement!