Campus hosts University of Sydney students to explore innovation and leadership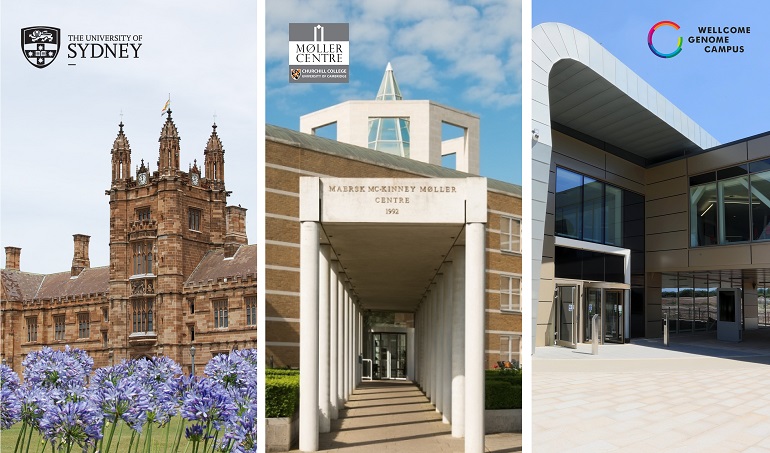 The BioData Innovation Centre, here on Campus is pleased to be hosting students from the University of Sydney who are also partnering with the Møller Centre and the Wellcome Sanger Institute to deliver a unique educational programme focusing on innovation and entrepreneurship.
This is part of the University of Sydney's strategic plan to transform the student experience by providing a global outlook and focusing on inter-disciplinary learning activities by tackling real-world projects. One such project, involving 25 undergraduates, is taking place this week, which in part will see students visiting our Campus today and on Friday this week. (February 11th and 15th).
As part of this programme, the students will focus on the long-term vision and ethos of the Wellcome Genome Campus. The undergraduates have been tasked to envision what that Campus could look like in 15-20 years, exploring the physical, social, economic and cultural aspects of the site as well as the intangible qualities that produce and nurture innovative individuals and help foster the formation of an innovation ecosystem.
Dr Spence, Vice-Chancellor of the University of Sydney explained:
The ICPU program represents one of the most exciting parts of the new University of Sydney curriculum and we are immensely proud of the work produced by our students' learning experiences.
Dr Joanna Mills, BioData Innovation Centre Manager here on Campus, said:
The field of genomics and biodata is flourishing and right now that is creating a great many new opportunities. As a consequence innovation is immensely important for both the Wellcome Sanger Institute and all of the organisations across the Wellcome Genome Campus. We're delighted to be involved in this exciting project and to have talented students from the University of Sydney involved in developing our thinking as we look towards the future of our Campus.
Media enquiries:
Steve Palmer, Head of Communications
+44(0)1223 496928