Can code change the world?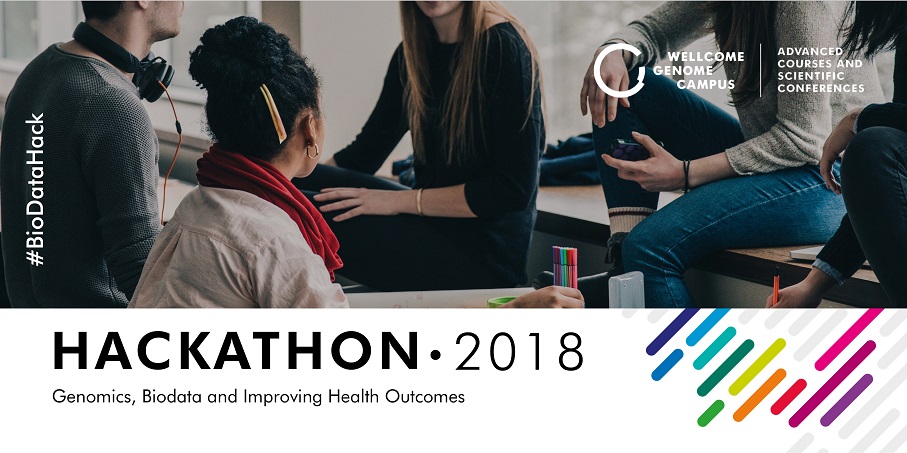 Over the course of two days in July (2-3), the Enterprise & Innovation and the Advanced Courses and Scientific Conferences teams based at the Wellcome Genome Campus hosted the first UK genomes and biodata hackathon (#BioDataHack) because we believe that code can lead to improvements in health outcomes for everyone. Unlike most hacks, this was more than a gathering of coders in the same space working on a single or several smaller projects. This was a hackathon with a strong entrepreneurial flavour bringing together not just academia and industry from the life sciences and pharma, but also people who could provide patients' perspectives, UX specialists, as well as those working actively at the fault line of scientific research and business. Collectively, they came up with some pretty neat solutions for innovative new approaches in healthcare.
Where are the opportunities in biodata healthcare innovation?
In short, everywhere.
We are producing 2.5 quintillion bites of data every single day. How much is that? Well the number looks like this 2, 500, 000, 000, 000, 000, 000 and it's the equivalent of one-quarter of all individual insects alive at any time. It's estimated that in 2019, there will be around 2.77 billion social media users around the globe generating data every single day and Gartner estimates that the sales of smartwatches will total nearly 81M units by 2021 whilst 20.4 billion Internet of Things (IoT) devices will be deployed by 2020. The world is now home to somewhere around 7.19 billion mobile devices- (more than human beings) and they're multiplying five times faster than we are. Big Data is getting bigger every day and bioinformaticians are tapping into this flood of information, revealing previously unmapped relationships between distinctive data sets.
The opportunities that arise from this vast quantity of data have been widely acknowledged by health and tech companies big and small for some time. With its acquisition of Pillpack, Amazon, for example, is one of many tech giants who are plunging into the healthcare space; in early 2017, they also invested in a genomics-focused startup GRAIL. Google of course has been in this space for a while, having made bets on AI being the next big trend in healthcare, the company is expanding across diagnostics, medical devices, population health analysis and more.
It takes armies of bioinformaticians to curate and create meaning from these mind-boggling quantities of data and to extract and apply insights to specific contexts, but the potential gains from doing this within the healthcare industry are equally mind-boggling. Data mining, capture, and analysis is essential to the process of drug discovery and repurposing, drug development, the running of clinical trials, the progression of precision medicine and better patient care through intelligent drug prescribing. Those were the themes running through the 5 Grand Challenges at #BioDataHack 2018, set by our event sponsors. They posed the following questions:
AstraZeneca: How can we map disease-drug target relationships using artificial intelligence?
Medicines Discovery Catapult: How can we combine drug and genetic data to intelligently prescribe drugs?
Microsoft: How can we design a clinical trial around the patient's home?
Open Targets: How can we predict opportunities to repurpose drugs to treat unmet patient need?
Over the course of 48 hours, 111 hackers worked tirelessly across 5 challenges, grouped into 18 teams and helped by 20 mentors from incubator and accelerator programmes and Cambridge health tech companies. We made sure there was plenty to eat and drink with food vans serving up burgers, pizzas and crepes into the night, not forgetting something to do if you wanted to relax a little- a late night screening of Avatar was enjoyed by some impressive multi-taskers.
The winning teams
17 Judges from academic and research institutions, business angels and CEOs of leading health tech companies decided the winners for each challenge. Without exception, they noted the high quality of the hackers' ideas. We hope that most, if not all of the teams formed at #BioDataHack 2018 will go on to collaborate and develop their solutions towards what may become healthcare services and products in a few years' time.
For the ARM | Atos | Cavium challenge, the overall winners were team "GoGut" -A mobile, AI-augmented device to allow patients with gut diseases to monitor their own microbiome.
Caption: Team "GoGut" hacking ways to use data processing on a mobile device: Alessia Visconti (KCL), Jun Aruga (Red Hat Czech s.r.o.), Oliver Giles (SciBite Ltd), Zhang Chen (University of Cambridge and University of Copenhagen ) and Ioannis Valasakis (KANO Computing).
More about the solution from Team GoGut, in this blog article by Oliver Giles.
---
For the AstraZeneca challenge, overall winners were team "Topologically INformed DRug-discovery (TINDR)" a solution that uses deep learning to identify fine-scale features of protein interactions that may predict candidates for drug targeting.
Caption: Team "TINDR" planning: Jonas Bovijn (University of Oxford), Christopher Cole (Wellcome Centre for Human Genetics), Chris Eijsbouts (University of Oxford), Héléna Gaspar (King's College London) and Timothy Jenkins (University of Cambridge).
---
Medicines Discovery Catapult's challenge winner was team "Prescription 1.5". They secured the top prize by integrating content text-mined from drug labels with genetic variant data and relevant clinical test to develop a solution to highlight genetic factors influencing drug efficacy and safety that would support clinicians at the point of prescription.
Caption: Team "Prescription 1.5" hacking ways to improve the prescription process: Alex Brown (GSK), Michael Hughes (SciBite Ltd), Joseph Mullen (SciBite Ltd), Michaela Sptizer (Open Targets EMBL-EBI) and Jan Wildenhain (AstraZeneca).
Find out more about how this solution was developed from this blog article by Joseph Mullen and Michael Hughes.
Read also: "Hacking genetic drug data at the Wellcome Genome Hackathon 2018" by Medicines Discovery Catapult.
---
Microsoft's challenge prize was awarded to team "D-Box" for their technical and infrastructural proposal providing the ability for drug trial patients to take part in a clinical trial from their own home.
Caption: Team "D-BOX" practicing their pitch: James Cameron (U. Birmingham), Ilan Shiradski (GSK), Eric Tse (GSK), James Welsh (Medicines Discovery Catapult) and Mike Westaway (Microsoft).
---
The Open Targets challenge winners were team "Repurposr" with a solution that uses known drug-symptom relationships to identify candidates for drug repurposing, helping clinical researchers find potential treatments for patients with unusual symptoms.
Caption: Team " Repurposr" settling into their hacking phase towards the end of Day 1: Jonathan Coleman (KCL), Ken Hanscombe (KCL), Rebecca Harrison (KCL), Simon Hazlewood-Smith (Science Practice), Elodie Persyn (KCL) and Robert Power (University of Oxford).
Read a blog article by Simon Hazlewood-Smith from the winning team of the Open Targets Challenge.
Can code change the world? We were left in awe by the dedication, enthusiasm, and talent of #BioDataHack participants, who certainly showed us that coding really can lead to solutions for some of the biggest challenges in healthcare right now.
A huge thank you to all of our participants, mentors, judges and the many individuals who helped to deliver such a brilliant inaugural healthcare hack here on Campus.
#BioDataHack Partners and Sponsors
More information on the challenges that we hacked.
Sign up to the #BioDataHack mailing list and be the first to find out when our next hackathon is happening.