Did you know? PhDs have the same chance of succeeding in building a $100m business as becoming a Professor?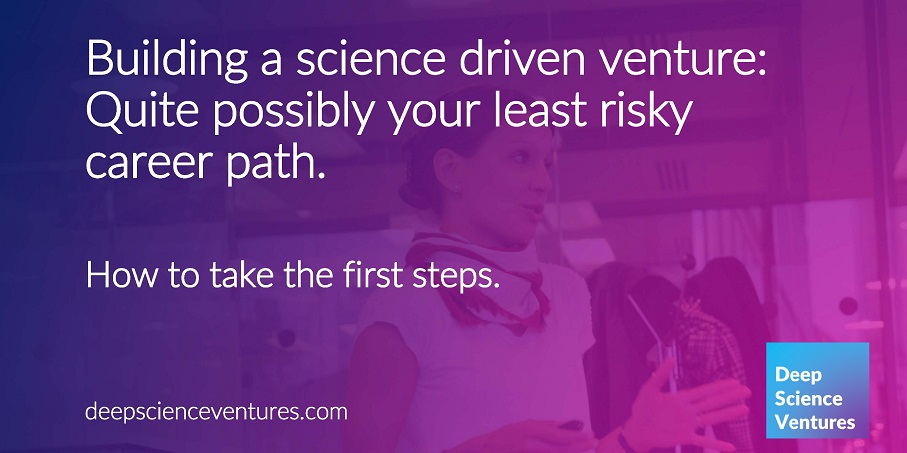 On May 24th, the BioData Innovation Centre hosted a second talk in its recently-launched seminar series to help nurture, inspire and promote scientific entrepreneurship and innovation across the Wellcome Genome Campus. Our guest speakers were Mark Hammond, Founder and CEO of Deep Science Ventures and a PhD founder Rowina Westermeier who has recently worked with Mark and his team to build her own start-up.
Deep Science Ventures is a venture builder based in London and a start-up in its own right that has evolved out of 5 years of working with academics to shape technology to fit the market at Imperial Innovations, the leading research commercialisation investor across the UKs 4 top universities.
Mark Hammond opened the session by addressing some of the common beliefs that people may have about starting-up a business with the aim of encouraging Campus scientists to take their first steps towards turning their scientific research into a business, a service or a product. The audience, comprised mainly of researchers working here on Campus, may well have identified with one or two of the 4 myths of tech start-ups.
My science is pure and not to be corrupted by capitalist agenda
Most ventures fail, it's too risky
Only big shot Professors start companies
I know nothing about business
Mark went on to demonstrate how these beliefs can be challenged by presenting us with data which suggests that building a $100m business has a success rate equal to that of becoming a Professor after a PhD. Typically, only 0.25% of PhDs take their careers through to Professorship and only 0.25% of tech-led businesses can go on to sell for $100m+ after taking angel funding. Whilst it's true that 90% of ventures fail, these are mostly coffee shops, the failure rate for tech-led ventures is actually more like 33% and it is mostly avoidable.
It was inspiring to hear that Postdocs have 80% of the knowledge that one needs to start a business, but both Mark and Rowina were also quite honest about how tough and challenging getting involved in a start-up can be and how the early days of entrepreneurship is a roller-coaster of emotions. When you decide that starting a start-up is something that you want to try, remember that it will feel like hard work, expect slow progress, to learn along the way and to come up against challenges both expected and unforeseen.
A start-up is going to be under continued pressure for at least the first 7 years.-Mark Hammond, CEO and Founder, Deep Science Ventures
We heard advice on de-risking at early stages of a new business and how its success essentially pivots around building a high-functioning team. Mark went on to emphasise that neglecting this aspect of your fledging company is often fatal. As an entrepreneur, you must be absolutely honest with your team on vision, what you expect and how you feel from the very beginning- building a team to fill the standard expected roles would be a mistake.
Overall a positive message to all thinking about innovating with science. Doing it for the right reasons is important by ensuring that you are passionate about what you do, obsessed even, and you want to make a difference with your idea- create a real impact in the world.
You don't need to wait, de-risk all you can before jumping in but then take that jump.-Mark Hammond, CEO and Founder, Deep Science Ventures
Mark Hammond blogs about Deep Science Ventures; for information about their activities and events, visit: www.deepscienceventures.com