Driving genomics entrepreneurship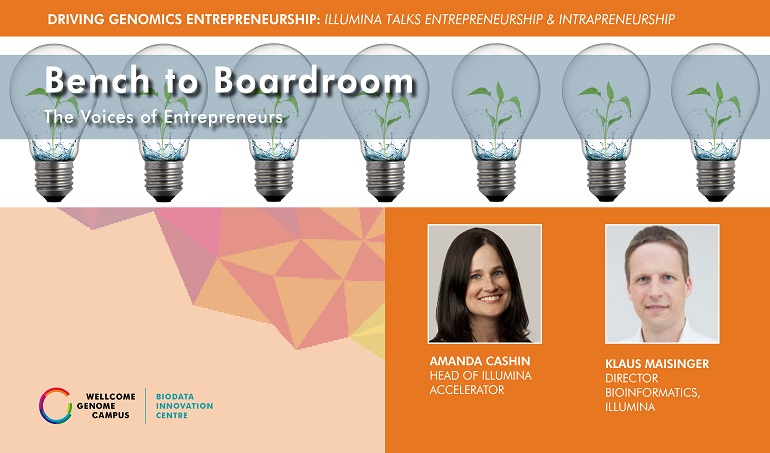 At the Wellcome Genome Campus, we are privileged to have access to some of the world's top scientists, many of whom are also innovators and entrepreneurs.
Our Bench to Boardroom seminars provide a platform for inspirational stories from scientists turned entrepreneurs. The stories our speakers tell are not only inspiring and useful; they also teach us about human character, the importance of science and the power of resilience, vision, and humility.
Last week we invited Klaus Maisinger, now Director of Bioinformatics at Illumina, and Amanda Cashin, who leads Illumina's Global Accelerator Programme, to tell their stories.
Leaving academia for a start-up
With a background in physics and astrophysics, Klaus was an academic at Cambridge University where he completed a postdoc. Despite the offer of another position, he decided to quit his academic life in 2002/3, and struck out into the world of business just as the recession took hold.
So, how did he pluck up the courage to leave academia and join a start-up?
He says he never intended to stay in academia, partly because of his family background which revolved around a family business over a century old. For Klaus, understanding what was important to him and what he enjoyed led him to spend some time working in a strategic marketing consultancy, where he learned a lot and decided that he wanted to find something that he could commit to and see what would come out of it.
You can find more than stationery in Cambridge
Klaus happened to go shopping one day in Cambridge, and whilst browsing stationery he bumped into an old colleague who now worked for a start-up looking for someone who knew about image processing – Klaus did a lot of that in astrophysics. "I never expected it to be a long job…that was 16 years ago."
That chance meeting in a stationery shop was the very beginning of Klaus's involvement with Solexa – a company that was acquired by Illumina in 2007.
Like so many Cambridge start-ups, Solexa was the brainchild of two Cambridge scientists, Shankar Balasubramanian, and David Klenerman. Inspired by the research carried out by the likes of Alexander Todd, James Watson, Francis Crick, and Fred Sanger, Shankar and David began to theorize about a new approach to sequencing DNA. As legend has it, many of these early creative discussions took place in a Cambridge pub – the Panton Arms.
From a windowless office to knighthood for the founders
Klaus describes how Solexa started off with primitive facilities: "At one point we had an office with six people where a person had to get up to let a person out. Our office had no window." He adds, "When I joined we didn't know if we would have enough money for the next few months; but the team was good- even though we had differences of opinion, we were all pulling in the same direction."
In 2000, the company moved into their first office at Chesterford Research Park: "As a start-up, you need to know who your customers are, so being in Chesterford Park and close to the Sanger Institute worked well for us. Also being further away from Cambridge meant that rental costs were low."
Klaus also talked about how in 2004, the company made a switch in their strategic direction to move away from single molecule sequencing towards using amplified custom molecules: "…this gave us better data and allowed for rapid progression of experimentation."

In 2005, Solexa was able to sequence its first viral genome and quickly moved on to increasingly larger genomes, in 2006 it launched its first sequencer with an ability to sequence 1 Gigabase (Gb) of data in a single run and in 2007, it was acquired by Illumina- a global genomic technologies' company with 7,000 employees and counting.
In 2017 Solexa's founder, Shankar Balasubramanian was knighted for services to science and medicine and in 2018, David Klenerman received the same recognition.
Don't be afraid to fail
Amanda Cashin heads up Illumina's Accelerator Programme which is a company creation engine – the only one in the world to focus on genomics. It currently invests in up to 10 companies every year across the globe, with 29 companies in their graduate portfolio to date.  The rationale behind the Accelerator is that Illumina knows that they cannot unlock the power of the human genome by themselves; this is why they are partnering with start-ups to achieve this goal.
Rapid innovation is important to Illumina, failing is accepted as a necessary by-product of the process. To a member of the audience who was worried about jumping into the world of entrepreneurship amid the uncertainty of Brexit, she said: "Have optimism and don't be afraid to fail. You'll figure out your visa- go for it."
A lot can be achieved in six months
Amanda described how Illumina engages with innovative individuals and companies and supports them over a six month period in their early stage development:
"We design the experience for our start-ups, give them a grant and let them develop their own methods of sequencing."
But is six months enough to figure out how to make your idea work?
With the conviction of someone who has seen it work out many times, Amanda said: "Yes, the companies that we work with are generating a lot of high-quality data, so when they graduate they're venture-backable."
For example, Encoded Genomics graduated from the Accelerator in 2015. It is a therapeutics company harnessing the power of the human non-coding genome and next-generation sequencing to create highly selective molecular therapeutics. During their six months with Illumina, they formed a single-digit million-dollar partnership with a large pharmaceutical company, generated 15 TB of sequencing data and advanced their internal pipeline programs.
Beer v coffee
Amanda also shared with the audience a wealth of detail about how the Illumina Accelerator portfolio is structured and talked us through a few examples of start-ups that her team has worked with.
Much of this entrepreneurial activity and output in genomics is made possible by the fact that the innovation ecosystem is more mature in the US "…Boston and San Francisco are the two biggest centres in the US, in the UK it's earlier days for entrepreneurship and innovation…"
But it's not all bad news for the UK.
Cambridge is one of the top 5 cities in the UK that is actively spawning and growing new companies, particularly within the life sciences and biotechnology sectors "…we are starting to see more and more entrepreneurial activity here."
Amanda added: "Helping each other is important, and it's happening in coffee shops all over the San Francisco Bay area."
So whether you prefer to drink beer in a Cambridge pub whilst the muse visits, or to drink coffee in a trendy coffee shop somewhere in California, remember, that the likes of Wellcome Genome Campus and Illumina have plenty of expertise and vast networks of professionals at their disposal to help you get your genomics business off the ground.
Questions or comments?
Get in touch with us if you would like to talk to us about support for your genomics or biodata company, would like to house your company here on Campus or to simply attend the next Bench to Boardroom seminar: innovation@wellcomegenomecampus.org