Entrepreneurial spirit thriving on Campus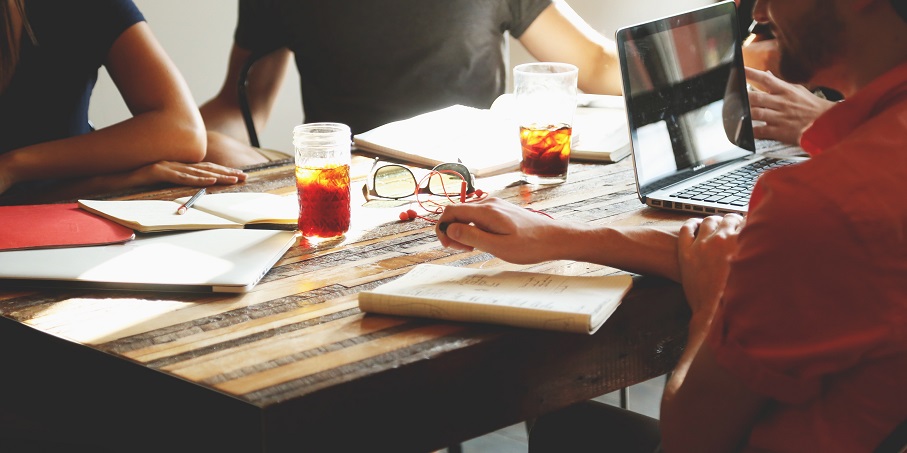 Every year, Cambridge University Entrepreneurs runs a business creation competition for postdocs. This is a fantastic opportunity for anyone with a passion for entrepreneurship to take the next step towards realising their ideas into a product or service. The business plan contest offers the chance for University postdocs to win early funding and in May 2017, three researchers based here at the Wellcome Genome Campus were the deserving winners of the 2017 CUE financial prize of £5K in the software stream.
Encouraged by this success, Patrick Short, Will Jones and Charlotte Guzzo (all are PhD students at the Wellcome Sanger Institute and Cambridge University) incorporated their new company- Heterogeneous; a user centric data-sharing platform. Charlotte who was previously a risk analyst at a multinational bank is now a single-cell researcher focusing on childhood cancer as part of a Sanger PhD Programme, Will is a computer scientist focusing on deep learning and genetics and Patrick- a mathematical genomics researcher specialising in rare diseases.
Since May 2017, Patrick, Charlotte and Will have been busy focusing on growing their user base and partnering with patient groups. They have been talking to patients, individuals and researchers to get a better understanding of how this platform would be useful to them and of how this platform might fit in the wider genomics and biodata industry. All of the researchers they have spoken to really like the idea being proposed and now the Heterogeneous team needs more people to take part in their study. Their aim is to get a critical mass (ideally over 1,000) of early users and patient groups, to ensure that Heterogeneous can become a really powerful resource for researchers. By building a platform that puts patients first, this new resource will do a better job of answering interesting questions about the interaction of genetics and the environment relying on large volumes of data gathered over a longer period of time rather than data that can be gleaned from one-off genome sequencing studies.
Their vision is to create a source of dynamic genetic and medical data and they are looking to partner with any academic/industry researchers who are interested in trying out this 'experiment'. If you would like to find out more about their plans, email: Patrick@heterogeneous.co.uk , will@heterogeneous.co.uk, or charlotte@heterogenenous.co. uk
In the last few weeks, Heterogeneous also launched their new website where you can sign up to take part in their pilot study: www.heterogeneous.co.uk
The Wellcome Genome Campus is a unique intellectual and physical environment housing organisations active in genomes and biodata, not found elsewhere in the UK. We are here to support the emergence of new companies that harness the expertise, platforms and technologies already on Campus to create innovative new therapies, services, apps and technologies and who want to build on the research and clinical capabilities of organizations located here. We aim to be instrumental in driving the high skills, high wage, and high growth economy in the UK.
Here at the BioData Innovation Centre (BIC) we are actively promoting entrepreneurship and innovation across the Campus by hosting networking events and seminars, as well as offering practical support to PhD students and other aspiring entrepreneurial teams across Campus, be it through the use of communal spaces within the BIC or calling in on the Innovation and Enterprise Team who can assist with pitch practice, advice around IP, business planning or development. After his team's win, Patrick said:
"Thank you so much for your help with pitch preparation – I think it made a really big difference for us to have that chance before the judging!"
Jo Mills who is the Entrepreneurship and Innovation Centre Manager here on Campus believes that early engagement of researchers and support at the crucial embryonic stages of a business's formation is an essential part of generating a rich entrepreneurial culture on Campus. It is for this reason that Jo is launching the BIC Affiliate Programme in September to act as a springboard for very early stage startups. She says: "We have a real opportunity here to embrace the entrepreneurial talent of the future within our vibrant community of innovators in genomes and biodata emerging here at the BIC."
Researchers with an entrepreneurial idea working on Campus are encouraged to apply to the BIC Affiliate Programme on an ongoing basis.
For information about entrepreneurial events open to those outside of the Campus, contact Vika Lebedeva-Baxter- Marketing Manager for Campus Innovation.