Global Gene Corp wins the Roddenberry Prise 2020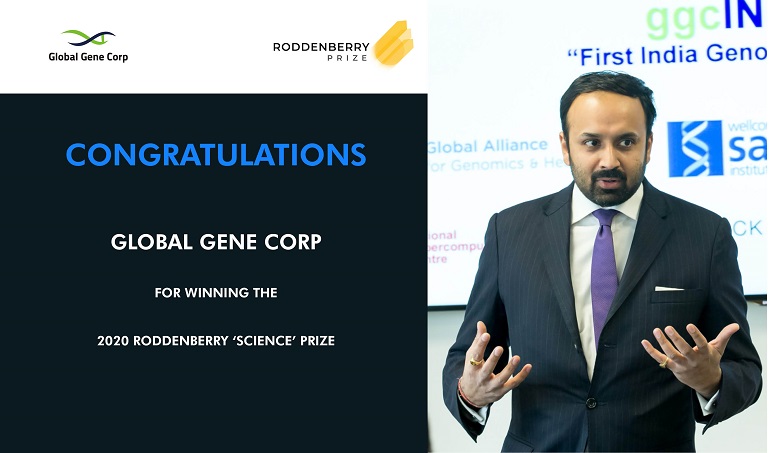 (August 20, 2020, FOR IMMEDIATE RELEASE)
The Roddenberry Foundation today announced the winners of its $1 million biennial prize—designed to advance the vision of Star Trek creator Gene Roddenberry—to four organizations working to better humanity amidst the challenges of the global pandemic.
This year's prize, launched in the early weeks of the pandemic, quickly pivoted to engage organizations who have demonstrated their agility and innovation on the frontlines of Covid-19. "Gene's vision was for big, bold ideas to change the world," said Roddenberry Foundation Chief Executive Lior Ipp. "The year's Prize invested in organizations able to move quickly and boldly in combating Covid-19, from spreading Covid-19 awareness to 'last-mile' populations to delivering online job training to contact-tracing and risk evaluation in genetic mapping, this year's prize winners are extraordinary organizations responding to humanity's needs during the Covid-19 crisis and beyond."
The response to the Prize was overwhelming and inspiring, with over 2,500 applications from non-profit and for-profit enterprises of all sizes from around the globe. Global Gene Corp wins the 2020 Roddenberry Prize for its contributions in Science: Global Gene Corp — Based in Mumbai, India and Cambridge, UK and with operations around the world. Global Gene Corp is democratizing healthcare through genomics by mapping and organizing the world's genomic diversity, overcoming the bias that 80% of all existing genomic data come from people of European ancestry. In response to Covid-19, the company has expanded its genomics technology platforms, originally developed to enable large scale studies on human health to create next generation therapeutics, to include a multilingual contact tracing platform with mobility passports and individual risk evaluation.
Sumit Jamuar, Chairman & CEO of Global Gene Corp said: "At Global Gene Corp, we are truly honored and humbled to receive the Roddenberry Foundation Prize for 2020. Growing up in India as a Star Trek fan, Gene Roddenberry inspired us with his vision of a future where technology is a force for incredible positive impact on humanity. This recognition of our work to create an equitable and fair world – where all of us, irrespective of where we live, can benefit by leapfrogging to the healthcare of the future enabled by genomics, digital health and creating the next generation of therapeutics – is a truly remarkable moment in our journey to create lasting transformation."
Get in touch with Global Gene Corp:
Chief Operating Officer