Is there a right time for entrepreneurship for women scientists?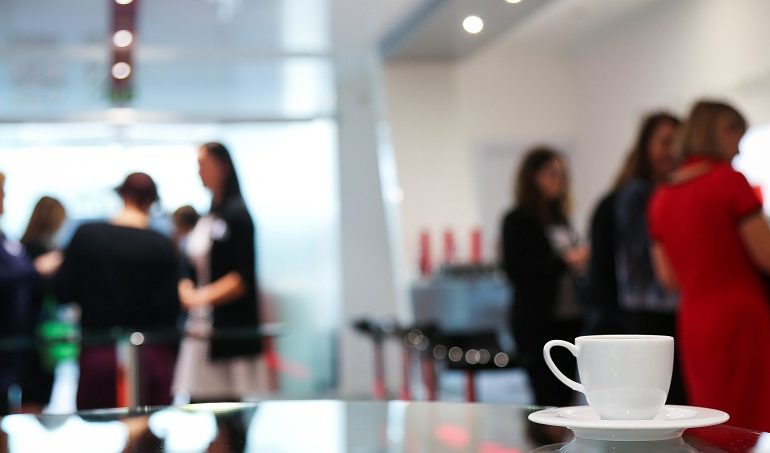 Julie Barnes and Jelena Aleksic are scientists turned biotech entrepreneurs.
Julie Barnes and Jelena Aleksic are scientists turned biotech entrepreneurs. We asked them if they felt there was a right time for entrepreneurship for women scientists, as part of a panel discussion within the joint programme of seminars by the Wellcome Sanger Institute and EMBL-EBI called "Sex in Science".
Julie and Jelena's stories give us two very different angles from which to look at this question since one's path to leadership took a number of years; the other tale is that of an early leap into the world of business.
Julie became CEO aged 49 whilst Jelena started her first enterprise when she was still at University.
Here are their stories…
Julie Barnes is the founding CEO and CSO of Abcodia with over 30 years of experience of the pharmaceutical and biotechnology industries. How did she progress her career from the bench to becoming a leader of a clinical stage company engaged in the commercial development of novel tests for early cancer detection?
"I didn't wake up aged 6 thinking I want to be an entrepreneur, and the road to this point has been quite long. But that doesn't worry me. I have always loved what I do."

In 2001, after 15 years working in major pharmaceutical companies, Julie took the leap into a biotech start-up. She joined a company working in 'ontology', a science that continues to underpin a lot of the artificial intelligence technologies that are trendy today. She says that despite not knowing much about ontology, its application for scientific discovery was the inspiration to join the company and Julie wanted to be a part of a small team. "In this first venture, I learned a lot in a small company environment, not least the fear running out of money!"
Julie's next role came from networking and partnering with UCL who was leading a large trial in the field of ovarian cancer screening involving 200,000 women across the UK. Julie led the creation of a business plan that related to the use of the residual blood donations made from the participants in the trial for new cancer tests. She became the founding CEO in 2011.

"It's still relatively early days for us, but we are making great progress with our first product."
Jelena Aleksic is Co-founder & CEO at GeneAdviser- an online platform that puts doctors in touch with patients. She received her PhD in  genetics from Cambridge four years ago and decided early to concentrate on building companies instead of pursuing a career in science. Jelena
says that she has always joined organisations and ended up running societies, charities, and clubs but has never thought of it as requiring leadership or entrepreneurial skills. By the time she attended an entrepreneurship course in Cambridge, she was already on her second business. "I never thought the word entrepreneur applied to me- it's a male image."
Jelena's first company involved her and her business partner giving fire performances to make extra money whilst working on their PhDs. A couple of years in, she says the financial projections
showed that the business wasn't going to be profitable, so Jelena set up her second business which was very different from the first. "My first co-founder pivoted to being a professional mermaid".
For her second company, Jelena wanted to build a product because "…during consultancy, you're limited by time, so it's only so scalable…" and when looking for ideas she was inspired by a postdoc working in rare diseases; seeing an opportunity to help truncate the time a patient ends up waiting for lab results and bouncing doctor- to –doctor prior to receiving a diagnosis.
Advice to inspire women in biotech
We took the opportunity to ask Julie and Jelena for advice on how to triage ideas to decide which ones are worth backing, on selecting the right team, mentoring and for tips on how to stay on top of the latest scientific developments whilst managing a business. Here's what they've said with positivity and conviction that is truly inspiring.
How do you identify and triage ideas to be able to say "This is the one I will get behind"?
Julie: This is something you learn and get better at…I've learnt about 'medical need',
'commercial opportunity' and how to build strong value proposition, a so-called 'USP'. We learn from our mistakes. The majority of early-stage businesses fail; Most certainly, almost all early stage business plans are not the plans that make a business a real success.
Jelena: I've built a method for this over time…a lot of ideas seem exciting when you first hear them…it's always a good idea to research them, the competition is there something unique about an idea…I also normally set up a neutral test…surveys, asking users to take action to see what happens and to measure people's inherent levels of enthusiasm for an idea or a platform. Ideas change a lot…often an initial idea is different to what you end up building.
What's the biggest and most impactful decision you've had to make as an entrepreneur?
Julie: To downsize. I've had several stages in my
career, where we've had to cut costs, and often that means loss of
jobs. This is hard, but at the end of the day, it's an essential
part of doing what's right for the business, and often the people
involved.
Jelena: For me, it was replacing a person, it felt horrible. Also, deciding if you should carry on with an idea at all…is a very difficult decision; or closing a company despite having investors and knowing we could close another funding round. It depends a lot of the time on how you close more than the fact that you've closed.
How important is it to know what we are good at and where to let go?
Julie: Everyone experiences aspects of their work that they don't like and often it's because they are not good at those aspects. The challenge is recognising one's strengths and working with different people to help in those areas.
Jelena: It's a journey of self-discovery, what you're good at…my background is very technical, but I enjoy sales and talking to people, it's a personality thing.
How important is the team and how do you select them?
Julie: Look for complementary skills, and what the business needs. At the outset, I do think starting a business in pairs is a great idea. It can be lonely otherwise and it's more likely that
ideas will spark through conversation than solitary thinking.
Jelena: Having people who are different from you but complementary works well. Working with people that you like working with is always a good idea and good conflict resolution is an absolute must.
How do you manage to integrate the need to do research with managing people?
Julie: I don't believe you can be both scientific expert and business leader for too long. At some stage, you need to make a decision to take one path.
Jelena: Keeping up to date with the science is easier than you think. Conferences usually cover key research themes at top level and reading papers on the latest research is actually kind of fun.
If you are a business leader, your understanding of the science doesn't need to be too deep.
Are you noticing more interest from females about entrepreneurship than in the past?
Julie: Yes, absolutely. I have many female colleagues who run businesses. It's great to see.
Jelena: I do a lot of talks, and informally set up conversations with aspiring entrepreneurs, we email each other and we go for a coffee.
We haven't developed the give back mindset here in the UK yet, compared to the US; do you think that's true?
Jelena: I think there IS a culture of giving back in
Cambridge. I make time to mentor people in early stages.
How important is mentoring?
Julie: It's essential, even if informal.
I've always been guided by colleagues within my network who I
respect greatly, and who almost always introduced me to new concepts or
made introductions that have helped me on my path.
Jelena: Mentoring is very important, something that can help people progress faster. Women tend to be over-mentored and under-sponsored. At one point, I had five different mentors who would tell me five different things, so I had to step away from that. Your autonomy and ability to execute is really important.
Is there a right time to be an entrepreneur?
Julie: No. It's never too late. I came to this relatively late, but the experience gained in the early part of my career was invaluable in shaping the decisions and actions I have taken as a business leader.
Jelena: If you feel a pull…then just do it. As an
entrepreneur, you have a lot of control in how you set up your business
For more articles on scientific entrepreneurship and innovation, keep an eye on the Wellcome Genome Campus
LinkedIn, Facebook and Twitter channels.