Startup School 2021-22 - What does it take to be a scientific entrepreneur?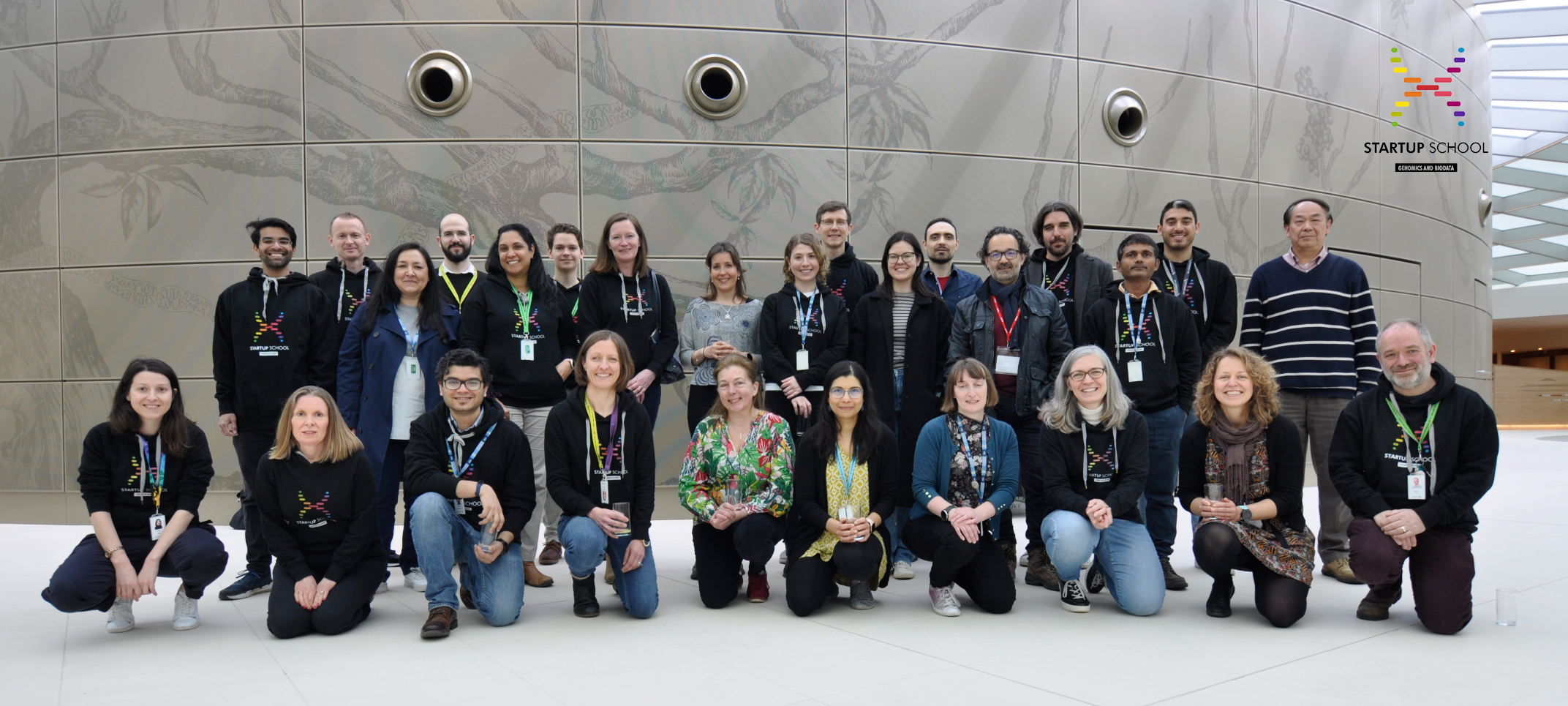 Before Easter (April 7th 2022) we celebrated the virtual Grand Finale of the Wellcome Genome Startup School with 26 participants recruited exclusively from Sanger and EMBL-EBI. Also in attendance, were the programme's speakers and mentors as well as specially invited guests, some of whom were panellists and were given the task of assessing thirteen two-minute pitches from each team.
The hosting team was composed of Jo Mills (GRL), Anca Belu (GRL), Alexandra Canet (GRL), Steve Cross (@steve_x ) – a scientist turned stand-up comedian, and Sanger postDoc and illustrator Alex Cagan (@ATJCagan) who produced logos for each of our Startup School teams and also illustrated the fabulous pitches (which you'll see as you read on).
Despite it being a virtual event hosted via Zoom, and a pitching event to boot- it was interactive, fun, and dynamic. Two hours just flew by. The following day, we had the opportunity to actually meet in person for a lunch celebration at the Conference Centre. A first for Startup school which we'll hopefully be able to do more of moving forward.
Participants, speakers and mentors
Our 26 participants all shined with their own light, not only during the Grand Finale but all through the programme. Here are the ambitious, curious, enterprising, creative, hard-working individuals who came with us on this journey. Thank you! We hope this is just the very beginning of a path that leads to a successful future for you all as founders, consultants, business leaders, and academics.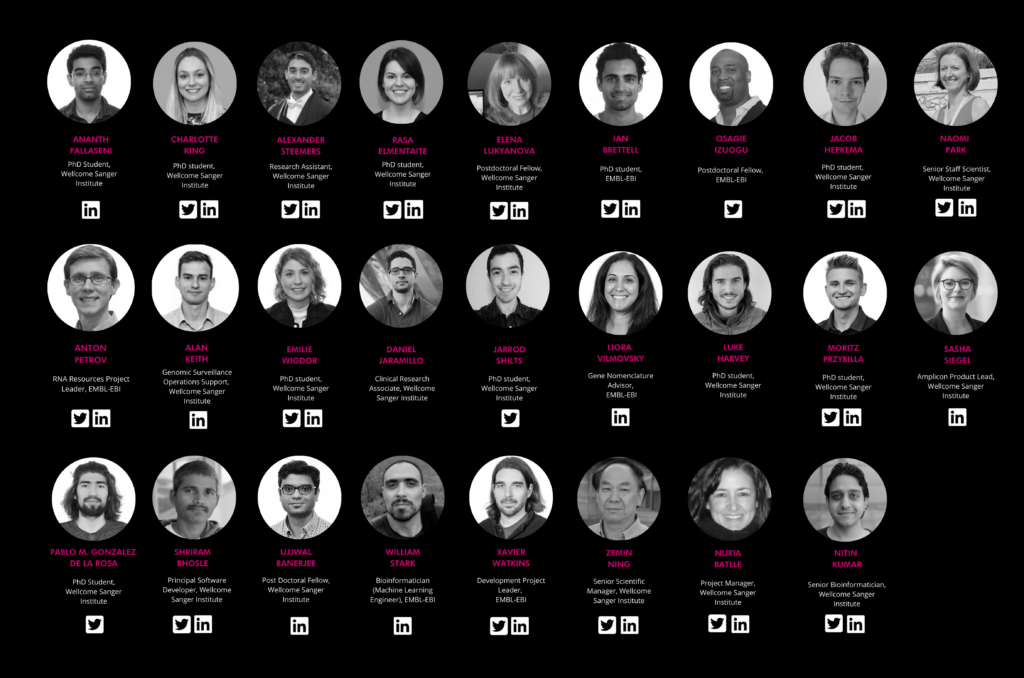 And here is some of the excellent feedback the programme has received from this year's cohort so far:
"Thank you so much for this amazing experience! I absolutely loved every minute of it and I know that I learned a lot, not to mention meeting and being introduced to my fantastic team partner!"
"Participating in the Startup School opened my eyes to the exciting world of biotech startups. The team behind the programme is absolutely brilliant, and the speakers and mentors are excellent in every way. Even if you don't end up starting a company, the Startup School teaches lots of transferrable skills so I would highly recommend the programme to anyone who writes papers or grants, presents talks, or leads teams as part of their job. The environment is incredibly supportive, so don't second guess your idea or your entrepreneurship abilities, just go for it and see what happens!"
"It was a very rewarding experience as a participant of the Startup Schools programme, it helped me explore the enormous opportunities available to develop ideas into a business plan.  The journey that started from being 'why me' and 'why now' nurtured our ideas through various sessions explaining the importance of being innovative,  backing up our idea through data, protecting it through IP and the importance of taking everyone on board in this journey through collaborations.  Having a sense of purpose by delivering our idea for the betterment of society was an integral part of this course."
The Startup School speakers took the cohort on a content-rich journey, from the most exhilarating and inspirational fast talkers, quiz masters, investors, team builders, leaders, CEOs, and gifted storytellers. Their knowledge condensed into two hourly pockets of time every other week, was worth every second of Zoom time and bandwidth, with many mentors (who attended many of the sessions) reporting that they too learned a huge amount alongside the Startup School teams.  Our new series, Mentor Top Tips, was a hit. Mentors gave our participants a set of tips and recommendations to help them through their journey.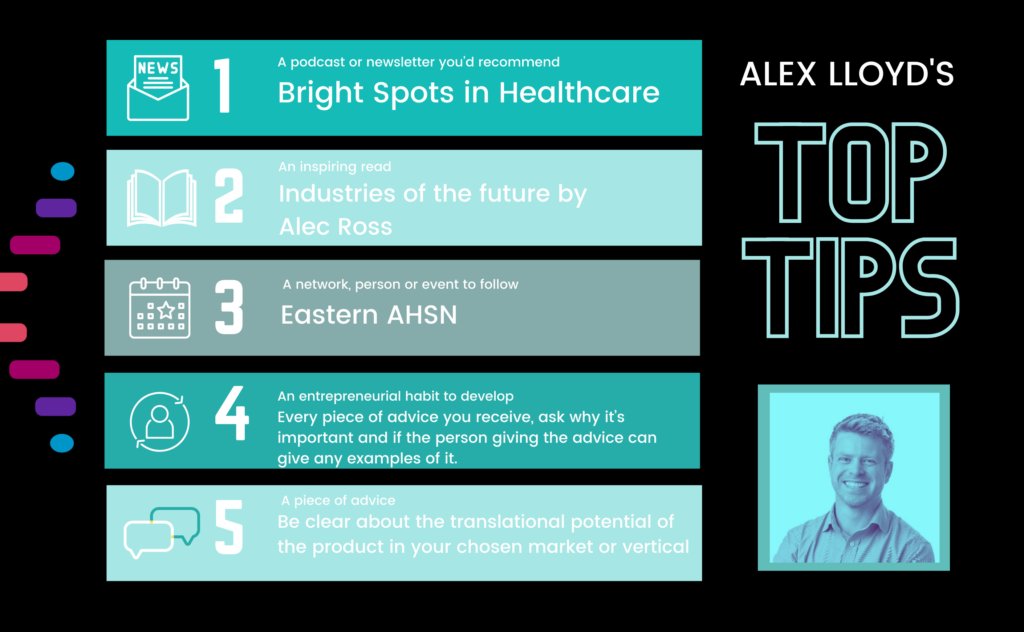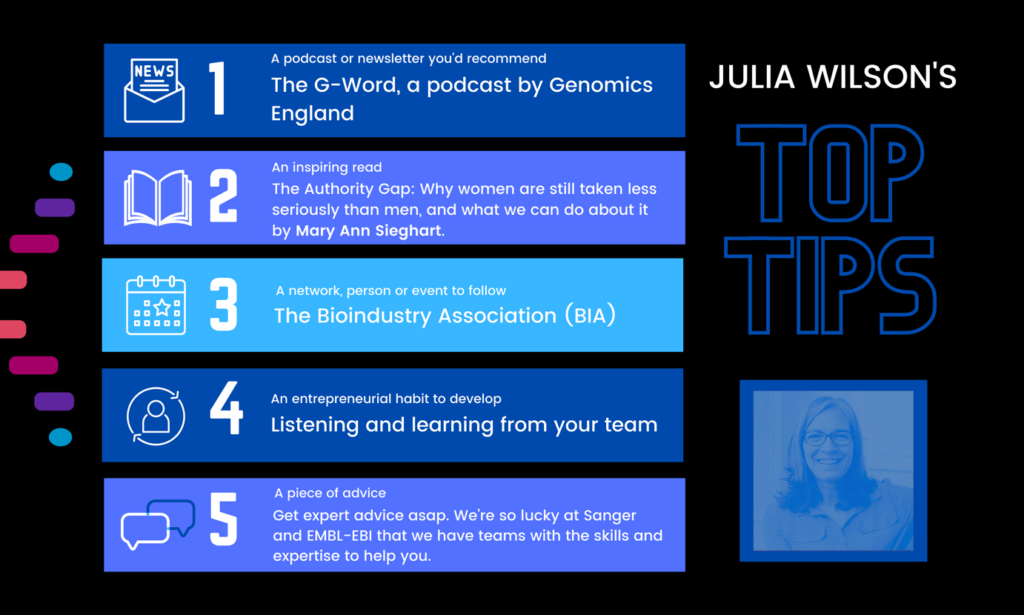 Scientific panels and Grand Finale
We have been evolving the Startup School this year and have included a set of scientific panels mid-programme with senior researchers from both Sanger and EBI. We felt it was a great success, and it gave participants the opportunity to validate their idea from a scientific perspective. You can read all about this scientific dragon's den here.
The programme culminated with the Grand Finale, with teams delivering elevator pitches with both founders presenting for a minute, and suffice to say… every single team impressed and delivered a polished summary of their idea. There have been so many great post-session comments flooding in, here are just some of them:
"… congratulations on such a fantastic event last week. I was so impressed by the pitches, you had obviously done a brilliant job during the Startup School in instilling the key messages – really interesting science with huge commercial potential – and very focused presentations."- One of the panellists who is connected to an Accelerator.
"What a delight it was to attend the finale, it was a fantastic event, brilliantly orchestrated and full of some fabulous science, well done!" – Senior Leader at the Wellcome Sanger Institute
Sanger PostDoc and illustrator Alex Cagan had designed a set of logos for the ideas and also illustrated the event live. A real challenge bearing in mind each pitch was only two minutes long! Here are his beautiful creations: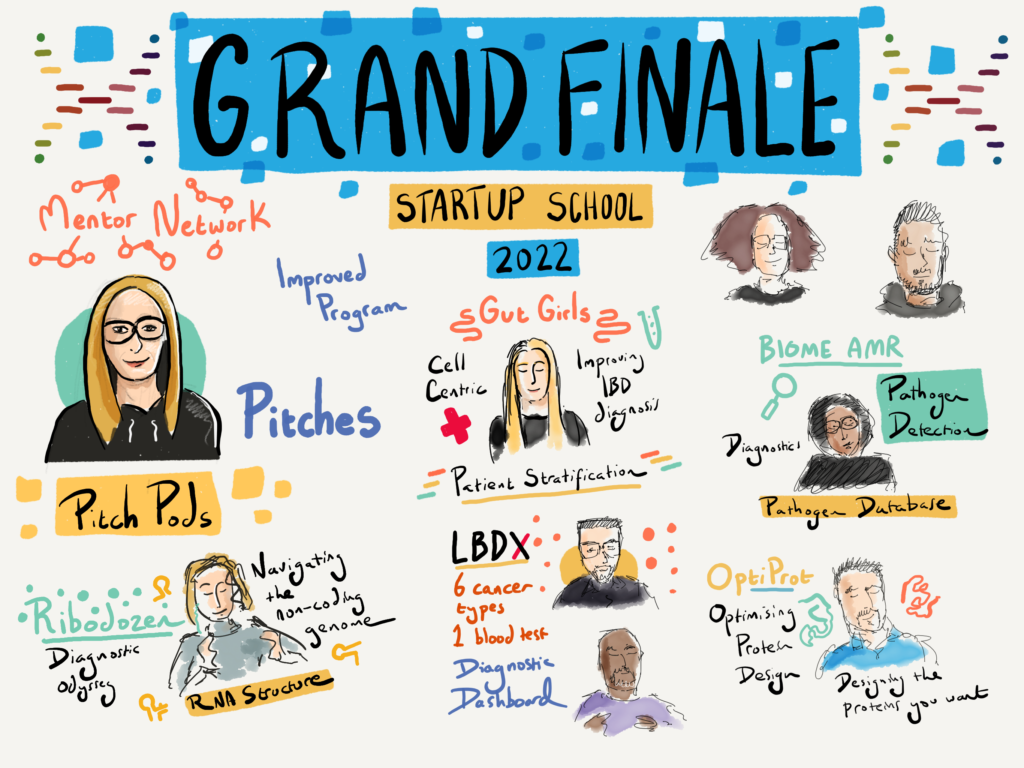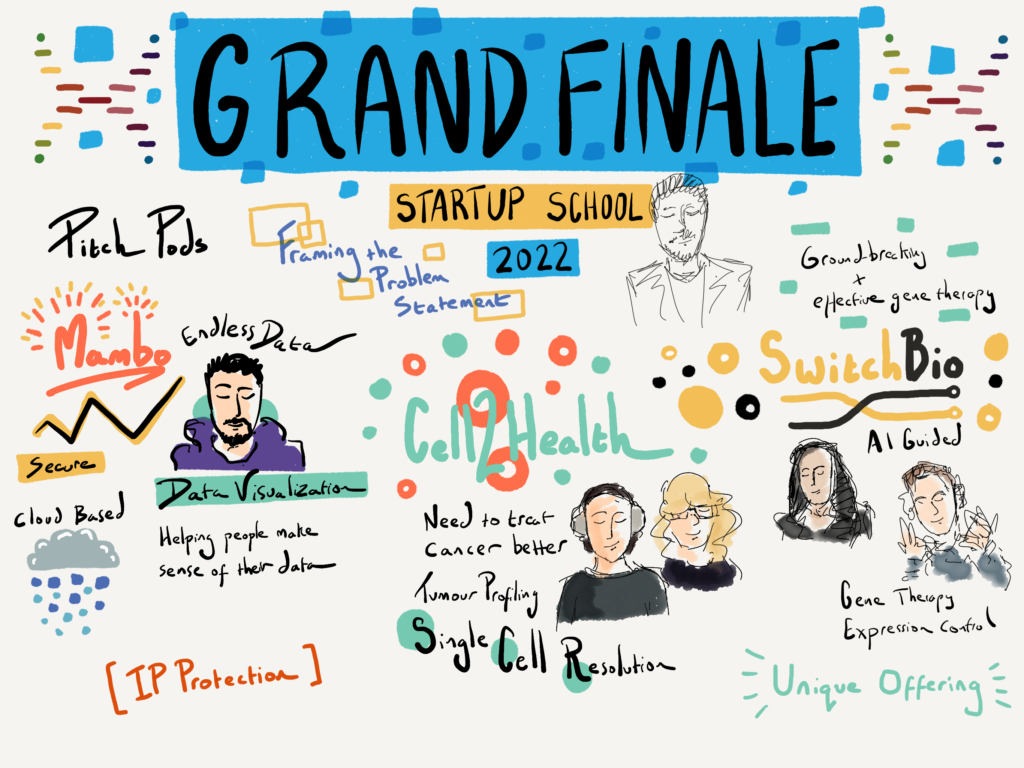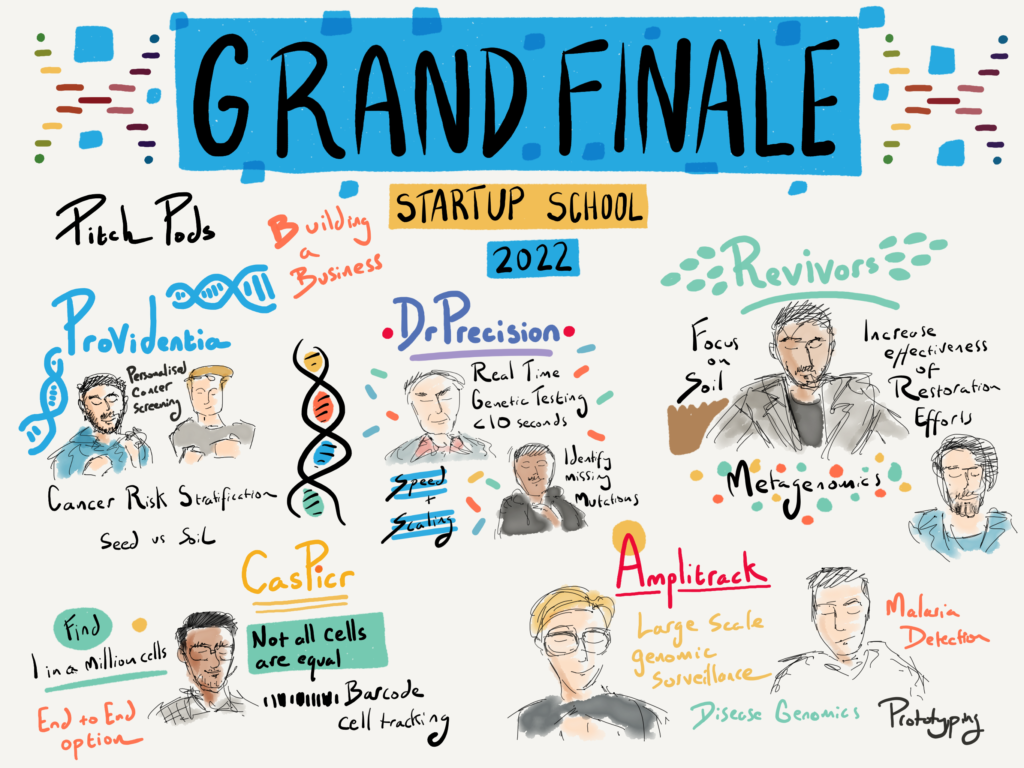 What happens next?
Having held a series of interviews with the individual Startup School teams, we've built up a better picture of how they would like to be supported post programme and even though, as expected, the types and amount of support wanted is varied, all of our participants are happy to join a Startup School Alumni Network as they continue developing their ideas.
We're already planning the third run-through of the Startup School, so if you like the idea of getting involved in any capacity (a participant, a speaker, a teacher, an MC, an entrepreneur in residence, or as a mentor) then we would love to hear from you. You can get in touch by emailing us at startupschool@wellcomegenomecampus.org
We teach entrepreneurs- would you like to learn?
If your answer is 'yes', then please pre-register for the third cohort, and don't forget to encourage your colleagues to apply too: https://forms.gle/CuV3Z7FXr5KGRc5q8