Startup School 2022-23 - empowering our campus scientific entrepreneurs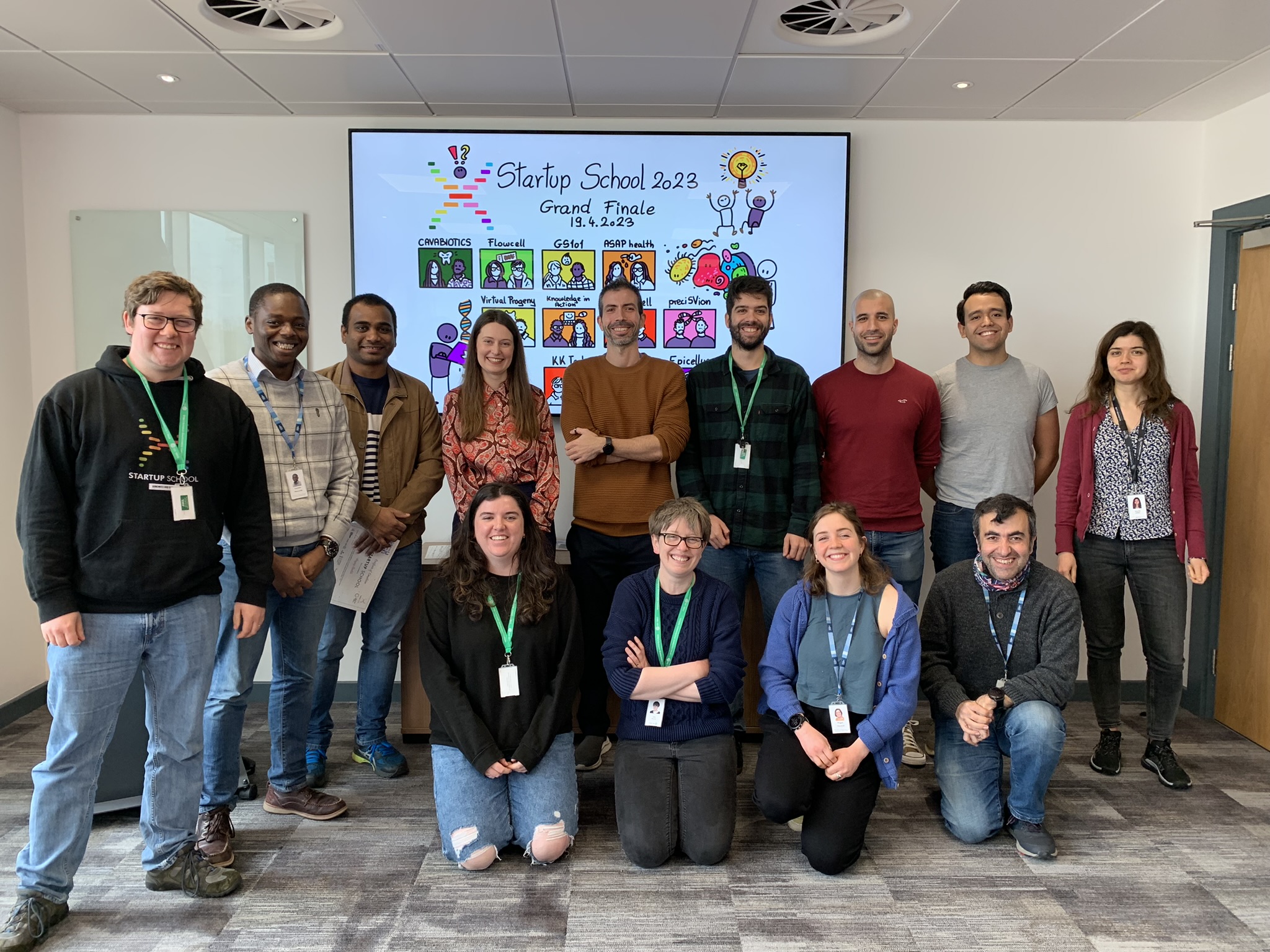 Can we improve our oral hygiene by understanding our very own buccal microbiome? Can we win the race against the Malaria parasite with on-site portable genomic sequencing? These and ten other ideas have been explored in the third edition of our award-winning Wellcome Genome Campus Startup School.  
It's been over a month since we celebrated the virtual Grand Finale (April 2023) of our lean entrepreneurship learning programme, with 24 participants recruited exclusively from Sanger and EMBL-EBI. Participants had 120 seconds to pitch their ideas to a stellar panel formed by investors, entrepreneurs and industry leaders in the sector of genomics and biodata from Cambridge and beyond. Cheering in the background were the attendees' colleagues, mentors and supervisors who joined us to celebrate their colleagues and peers on this special occasion. 
The Startup school is a six month ten-session programme that enables participants to explore scientific ideas stemming from their research through an entrepreneurial lens. The programme also offers another excellent advantage: the opportunity to be mentored by members of the Cambridge Life sciences community, an opportunity many alumni have highlighted in the past.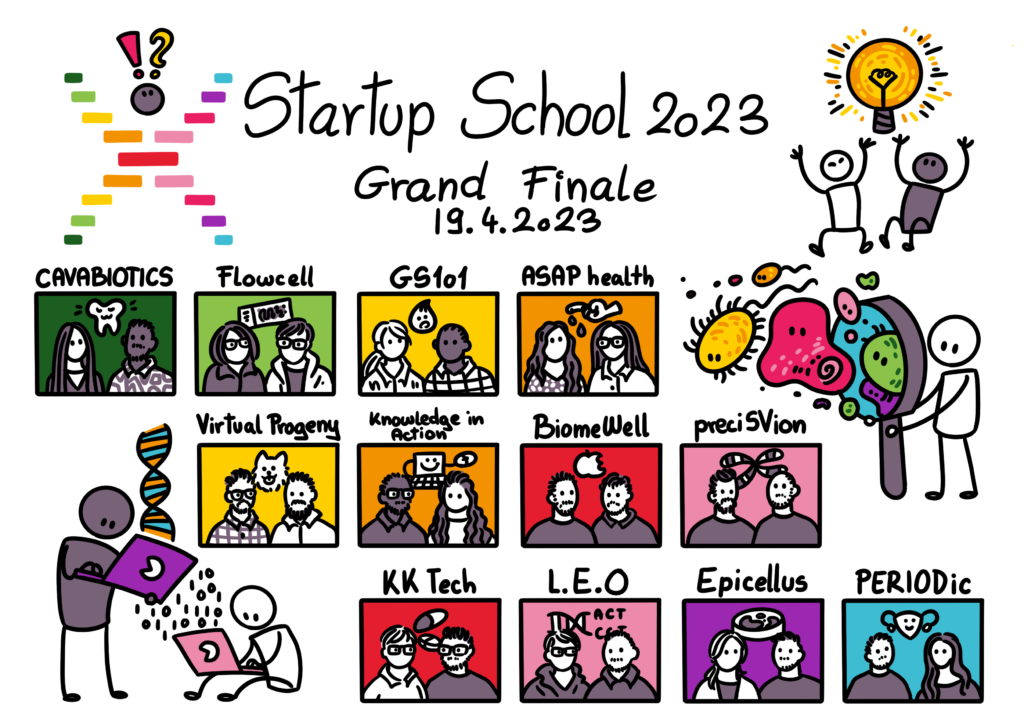 What do our Startup School participants say of this third edition?
"If you're looking to try something new with the goal of having an impact to society, do Startup School." Victoria Carr, Principal Bioinformatician in the Parasites and Microbes programme. 
"I found Startup School to be a great way to explore the realm of entrepreneurship. The sessions provided great direction for the projects whilst providing an education on all things start-up. However, I found the most valuable components to be working how to develop your start up idea, how to network as well as revealing different career avenues within science." Megan Gozzard, PhD fellow at the Human Genetics Department.
"Attending Start-up School has been a fantastic experience. It has really helped me in bridging the gap between having scientific ideas and understanding how to move towards creating a business around it, covering all the steps in the process. It has also provided me with a lot of guidance by experts, and a ton of resources. I believe that many of the topics covered in the course (e.g., storytelling, how to pitch an idea, how to find mentors, intellectual property, networking, etc.) would be of value for people working in the sciences, even if they don't see themselves as future entrepreneurs. I would strongly recommend enrolling to anybody working in the scientific/genomics space." Jacob Almagro Garcia from Translational Research Lead at GSU.
"Joining the third cohort of Start School as a buddy in 2022 was undeniably one of the most transformative decisions I've made. The level of support and dedication exhibited by the program organisers was nothing short of remarkable. The programme created invaluable networking opportunities beyond the Startup School by facilitating connections with stakeholders, key opinion leaders and industry experts. The Startup School program did not only provide us with an incredible platform to gain knowledge and skills in translating scientific ideas into inventions, but it also fostered an environment that encouraged collaboration, innovation and creative problem-solving". Andrews Assante, In-country Operations Support Officer, MalariaGEN – Genomic Surveillance Unit (GSU), Wellcome Sanger Institute.
Third edition innovations
The Startup School innovates every year. What was new in the 2022 – 2023 edition? Feedback from previous cohorts stated that participants would've liked to have a say on who they are buddied with, so the team decided to put together a matchmaking session at the very start of the programme. This enabled participants to get to know each other and see which ideas they'd like to work with. To add a little context, the Startup school selects twelve people with ideas and twelve people without but who are happy to support other ideas, and then buddies them up to work together throughout the programme. 
This third edition also incorporated more in-person events, with a Christmas celebration, a panel and networking event with members of the Babraham Institute, Congenica and the Milner Institute, as well as the opportunity for our participants to meet and mingle with the companies based at the BioData Innovation Centre. 
Mid-way through the programme, we were joined by our scientific leaders on campus to run our Scientific Panels, in which our participants put to test, not so much their commercial approach, but the scientific validity of their ideas. It was at the Grand Finale that our participants shined with their pitches. The team, and the cohort, all saw a veritable transformation – just how much pitches and ideas had improved in the course of five months! A set of logos for all teams to take home were also revealed, designed by our on-site artist Petra Korlevic. We then had the chance to all celebrate in person, with a certificate presentation, which marked the end of this third edition. 
All motors running for the fourth edition! 
However, this is not where the work ends for the Startup School team. We are busy planning the fourth edition of our lean entrepreneurial programme, so if you'd like to be one of the first ones to know when registrations open, please register your interest here: Registration Form