Sustainability Stars Awards at the Wellcome Genome Campus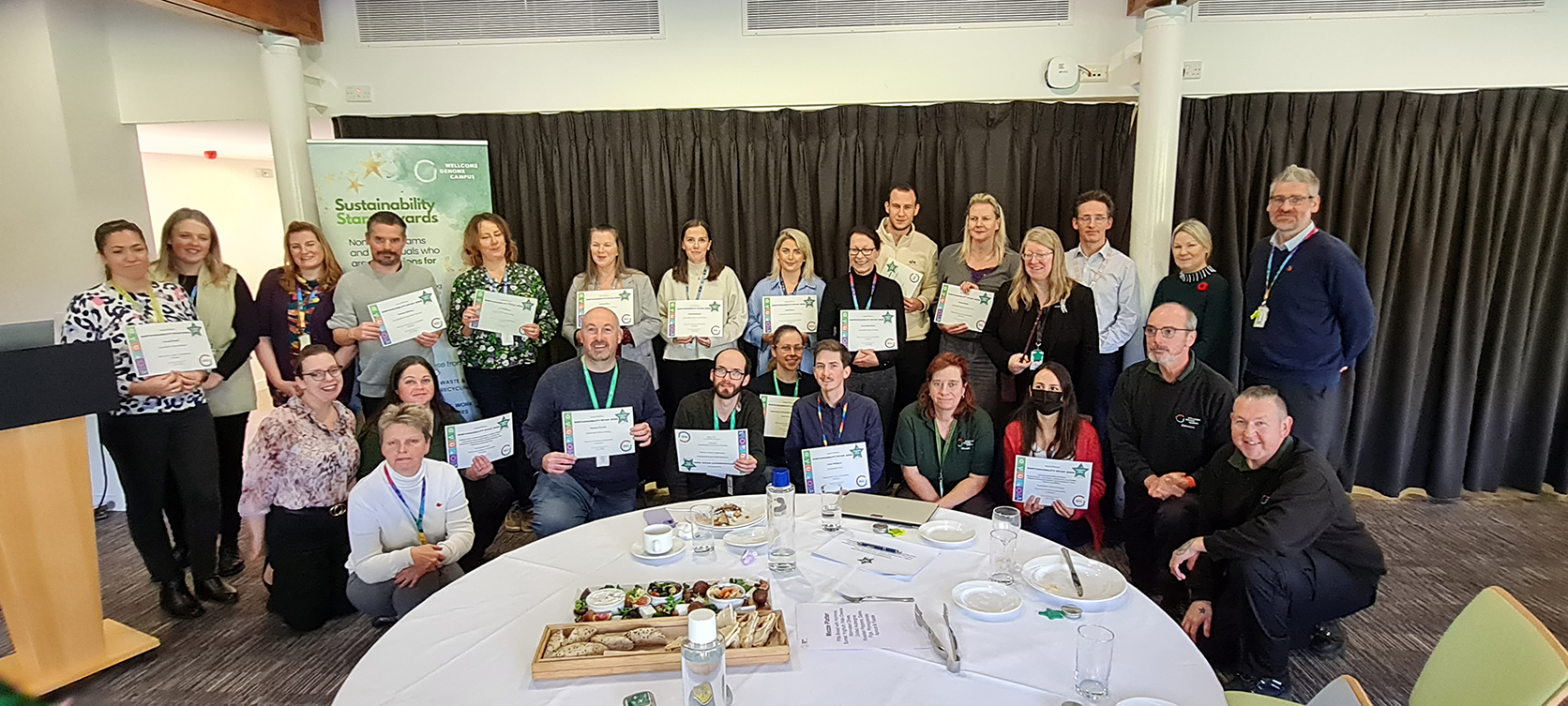 In 2022, we introduced a new award to champion sustainability on Campus: The Sustainability Stars Awards, recognising individuals and teams across Campus who go above and beyond to embed sustainability into their day-to-day roles, and/or to bring new ideas to Campus. 
Fifteen individual and four team awards saw staff across Campus recognised for their commitment towards a sustainable workspace. The awards ceremony took place in November 2022 and featured six categories: culture change, sustainable travel, carbon and offsetting, lab and work practices, waste and recycling and sustainable food. 
What was the panel looking for and who were the winners? 
Culture Change – five individual and two team awards
The panel was looking for individuals who actively demonstrated and promoted sustainable practices in teams and events by leading by example and changing working processes or habits, championing new ideas and initiatives to make operations more sustainable and were positive and solutions-driven; inspiring others to change and influence culture. 
​​​​​​The culture change winners:  Jen Waterfield, Anne Wilcockson, Claudia Watts, Andrew Cornell, Alex Bateman, Amanda Fletcher, Jane Murphy, Jemma Hume, Lucy Criddle, Nagehan Ramazanoglu Bahadir, Sarah Heatherton, Treasa Creavin, Zoe Willard, James Blackshaw & Emma Manners.
Sustainable Travel – one individual and one team award
Enthusiastic cycling representatives and advocates who are encouraging others to commute by bike and organising group rides from Cambridge. 
The sustainable travel winners:  Lukas Weilguny , Leah Rosen, Paula Weidemueller & Felix Langer
Carbon and Offsetting – one individual award
The award highlighted championing and encouraging behaviour change amongst colleagues and teams to reduce carbon emissions at home and work, running surveys and competitions as well as providing hints & tips on different actions that could be taken to reduce impact.
Carbon and Offsetting Winner: Bethany Morgan
Lab and Work Practices – six individual awards
What were the panel looking for? Influential individuals on campus making significant changes in lab working practices, freezer operation, and management, changes in waste management procedures. Staff who are championing initiatives to reduce waste and ensure items that are no longer required are reused or repurposed and who are increasing awareness around the impact of energy requirements for storing data and changing design processes accordingly
The lab and work practices winners: Tristram Bellerby, Jake Brown, Kristina Battleday, Joanne Doran, Nicky Chilvers & Karen Arnott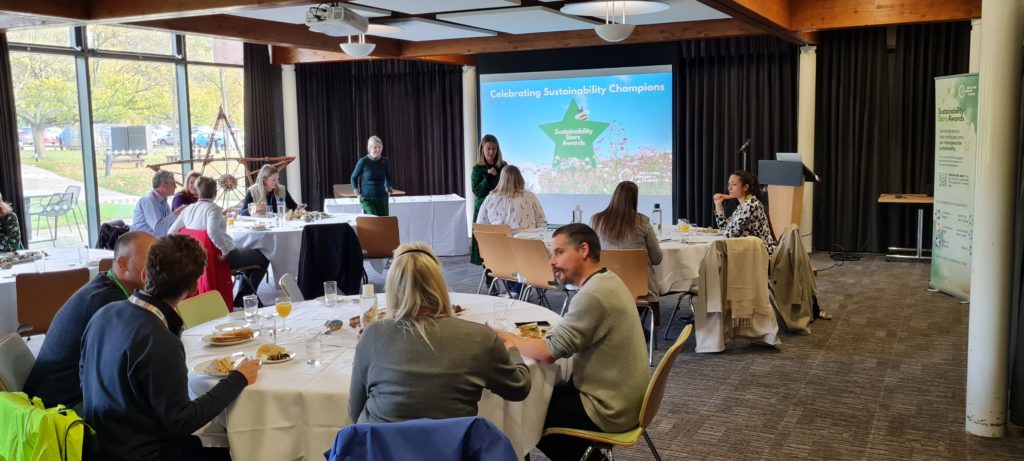 Waste and Recycling – two individual awards
Awarded to campus staff who are organising and arranging collections and re-selling of items to promote re-use and diverting items from waste streams to ensure resources stay in circulation for use by others. 
The waste and recycling winners: Pamela Swann & Ami Francis
Sustainable Food – one team award
The award went to the Apple juice from Campus orchards project. Our Campus Grounds Teams and BaxterStorey have worked together to produce Campus apple juice to be sold on-site – A true example of a circular economy!
The sustainable food winners were Cathryn Temple (BaxterStorey), Lee Outhwaite, Andrew Flack, Cameron Dunsmore, Christopher Evans, James Negus, Joe Cole, Michelle Starling, Rachel Thompson, Tina Outhwaite, & Wayne Boreham
Each winner was presented with their Certificate, printed on Seeded Paper, and a 'Sustainability Star' lanyard token, made onsite for by Colin Barker out of leftover pieces of plastic.  These will be worn with pride on lanyards in true 'Blue Peter badge' style!
The ceremony was hosted by Sian Nash, the Wellcome Genome Campus Associate Chief Operating officer, who awarded the Sustainability Team and group leads who had made the awards possible for their efforts within this cross-sector team. 
Sian Nash said: "Our Sustainability Stars Awards highlight the commitment of our world-leading campus to continue to be a sustainable space in which we consciously make decisions and choices with sustainability in mind. This aligns with our scientific mission and we actively manage our Campus to use energy efficiently, increase biodiversity, provide green travel options, reduce waste, increase recycling and underpin a culture of sustainable working and thinking. It is heart-warming to see so many initiatives crystallise as our staff go above and beyond to seek new ways of embedding sustainability in all that they do."
The Sustainability Team's hand-painted 'strategy-themed' rocks created by team member Claire Rogerson were also on display, as well as the commissioned 'Willow Star', handmade on Campus by a local artist to represent these awards at their launch on Campus Environment Day (30 June 2022).