Turning science into business: the story of a spin out venture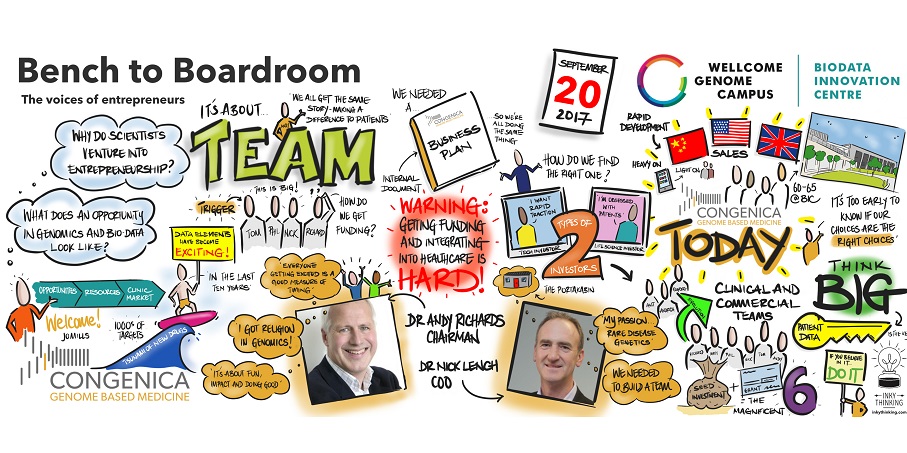 At the first talk in our Autumn 2017 series of the Bench to Boardroom seminars for aspiring genome and biodata entrepreneurs, we asked two senior executives of Congenica (a Sanger Institute spin-out company) to share the story of their company's growth- from idea to a healthy and growing organisation with offices in the UK (here at the BioData Innovation Centre on the Wellcome Genome Campus), US and China.
Congenica was founded on pioneering research from the Sanger Institute that has developed the gold standard clinical genomic analytics platform called Sapientia- a tool that provides integration of human DNA sequences with deep clinical phenotyping, and enables clinicians to provide actionable interpretation of genetic disease for patients.
What factors contributed to Congenica' success?
According to Dr Andy Richards (Chairman) and Dr Nick Lench (COO), what worked for Congenica was a potent mix of timing, team and expertise. Andy, who started his career as an enzyme chemist has been involved in spinning out 25 companies so far and counting. He said: "I have a mechanism that I employ when I get excited about an idea. I invite people and talk about it and what happens is that if the time is right, the team sort of agglomerates." Andy went on to say that what he has learned by working with a number of start-ups is that it's also all about teams. "The reason I deal with small companies and start-ups is the band of brothers/sisters attitude they have- that 'us against the world' feeling. All energies in small companies are focused outwards, and that's exciting, inspirational and somewhat intoxicating."
Dr Nick Lench is a molecular geneticist and took various steps along his career path before he became Director of the NE Thames Regional Genetics Service at Great Ormond Street Hospital for Children. Back then, he was working with Dr Phil Bales (one of Congenica' co-founders) and setting up whole exome sequencing at the Great Ormond Street Hospital (GOSH). Nick said the seed of the idea that would become Congenica was already there: "Phil and I both wanted to sequence every child who came through the hospital's doors, but the NHS simply didn't have the resources."
The connection with the Sanger Institute came from Nick and Phil's involvement in the Deciphering Developmental Disorders (DDD) and UK10K projects at the Institute and both could see the potential in combining this kind of data with bioinformatics. Nick already knew Tom Weaver (Congenica's CEO) who had Dr Richard Durbin (award – winning scientist) and Dr Matt Hurles (recently appointed Head of the Human Genetics Programme at the Sanger Institute) on board with an idea that would give birth to Congenica, so when Tom asked Nick if he would like to start a company with this team; Nick jumped at the opportunity.
Once you have the idea and an amazing team who really know their stuff and the timing is 'now'; you need investment. Both Andy and Nick spoke about the challenges they faced whilst fundraising and the fact that the process is full of 'ups' and 'downs'. "Fundraising is always hard and anyone who says different simply hasn't done enough of it…" said Andy, going on to define the two very different groups of investors that they had to approach- the tech investors and the life science investors. The latter group is obsessed with patents and the former are deeply uncomfortable with a lack of rapid traction and often not seeing themselves as getting quick profits from industries like healthcare. In the end, Andy said Congenica chose the hybrid business model which cut down the number of potential investors that they could approach and that was hard. At the same time, the UK10K Genomes project was launched; "…and everyone was wowed, except most investors, who sat on their hands because they wanted to know what Congenica's business model was going to be as a result…" said Andy. It slowed everything down by about 18 months for Congenica but eventually, they got the investment. So far Congenica has been through two rounds of investment and a couple of months ago they managed to bring in investors from China- strategically Congenica's next geo move. "The reasons for going into China are simple…" said Nick, "…despite it being a hugely challenging market the potential rewards are massive."
There were plenty of questions from the audience for Nick and Andy, who were a mix of researchers and those working for the start-ups based here at the BioData Innovation Centre. The audience asked about everything from the differences between doing business in China versus the UK to interpreting patient data and advice for those who want to start up a company but do not have business experience. Overall many positive and encouraging words have been shared with the attendees and we hope that at least one person in the audience has been inspired to start the next big genomics or biodata venture of tomorrow.
If you would like to attend a Bench to Boardroom talk email Vika Lebedeva-Baxter for an invitation and for more details of the upcoming seminars.